Pune to shirdi shivshahi bus,The Maharashtra State Road Transport Corporation (MSRTC) has decided to introduce air-conditioned buses to popular religious destination Shirdi, in its bid to take on private operators. for msrtc online reservation
shirdi is the most famous tourist and temple in india  "Many passengers travel to Shirdi by private AC buses. MSRTC planning to start AC service for Shirdi. The service has been started from december, whenever the permit will be given. The launching the Pune-Goa and Pune-Mahabaleshwar air-conditioned bus service, which became a hit. We presently have a load factor of at least 70 to 80 per cent on the route,"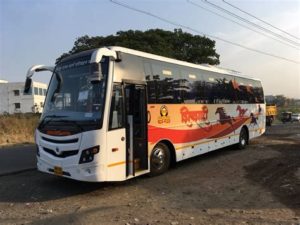 "MSRTC already running Hirkani, the semi-luxury buses for Shirdi. The bus will run eight trips, four from each side, and will start from 6 am. The fare between Pune and Shirdi will be Rs 250 to 300, way less than the fare charged by private players. We plan to add more buses across different routes, but that will happen in phases," the official said.
MSRTC has finally started up buses on this route to start their bus service to the popular religious destination. "Eventually, they have to compete in the market and for that, new services are essential. We are students and hence, this is a good option for us.". pune to shirdi shivshahi bus
Cheaper option
At present, a trip to Shirdi from Pune via private buses costs Rs 450 to 500 per passenger. Some people book cabs, which cost nothing less than Rs 4,000-5,000.
The fare of Shivshahi bus service is expected to be between Rs 250 to Rs 300.
Background
Shirdi is the holy place where sai baba spend their entire life, To take blessings of sai baba at shirdi thousands of peoples goes to shirdi everyday. On the special occasion such as Gurupaurnima, Guruvar(Thurday) etc on these days peoples come to shirdi to take blessing in huge numbers. Its like challenging for Public transport circulation of public transport buses around the city.
Pune to shirdi Shivshahi bus will be good option for passengers who wants to travel from pune to shirdi in air conditioned public transport vehicle. Before Shivshahi bus , MSRTC doesn't had a bus to fill the gap between Shivneri bus and Parivahan buses. Parivahan buses are the economical buses; Peoples don't choose it sometimes as they want to travel with air conditioned buses. Nowadays Shivshahi bus attracting more passengers to public transport vehicle from private travelling buses due to its good services at economical fare ticket.