Nashik to pune shivshahi bus has been started its operation. The Maharashtra State Road Transport Corporation (MSRTC) will launch new fully air -conditioned semi-luxury class buses named shivshahi bus for Pune Nashik route, Nashik Pune route is on of the prime routes of MSRTC such as Pune Mumbai route, Mumbai Nashik route, also known as golden triangle of Maharashtra. You can book online tickets MSRTC online reservation
First of the four shivshahi buses arrived in MSRTC Nashik division depot, will start its daily service very soon. The shivshahi buses have been currently scheduled at 11:15 AM, 12:15 PM, 1:15 PM and 2:15 PM (Nashik to Pune shivshahi bus timing)
The MSRTC Pune division depot has also received four shivshahi buses and they will also flagged off at the same day.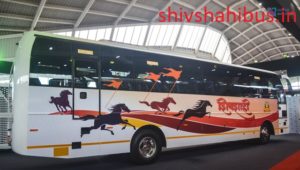 The Shivshahi buses will replace shivneri buses and even the semi-luxury class Hirkani buses, However Hirkani buses will not completely removed from its daily services
Nashik to pune shivshahi bus fare ( Rs 346) which will fill the gap between the semi luxury (nashik to pune MSRTC fare Rs 315) and luxury bus fare (Rs 615).
Currently there are eight shivneri buses are running on this route and making 10 trips daily on each route(Nashik to Pune and Pune to Nashik) , Shivneri online reservation for this route have been blocked as shivshahi buses will take place of shivshahi on this route. Shivshahi buses tickets are cheaper almost 50%  so most of passengers will travel by Shivshahi not from shivneri. These shivneri buses will be used on Mumbai-Pune route where Shivneri buses are more demanding
At present 13 Hirkani buses are running on Nashik-pune route and making 30 trips on both direction. Few of these Hirkani buses also replace by Shivshahi buses within some months after getting all 20 shivshahi buses.
Please share this post with your friends and family to spread awareness about new class of MSRTC buses.
Popular Routes of MSRTC
MSRTC helps people living in Maharashtra travel within the state. At the same time, MSRTC helps connect people of Maharashtra with neighbouring regions of Andhra Pradesh apsrtc online booking, Gujarat, Madhya Pradesh, Rajasthan and Karnataka. The most frequented route by MSRTC buses is the route from Dadar to Pune.
Check our online booking for nashik to pune shivshahi bus